Baobab – superfood and body care in one
Baobab seed oil (moyo) refined – particularly rich in nutrients
Whether used as an additive in food, medical products or cosmetics: with its content of anti-oxidants, vitamins, minerals and fatty acids, baobab is considered a small powerhouse for health and skin care. The fruit comes from the African baobab tree and is supposed to be the world's most nourishing fruit richest in anti-oxidants. Consequently, the superfood has been part of the traditional diet and popular medicine in Africa for centuries. But the properties of the baobab fruit also convince completely in cosmetic products – from soap up to skin care products.
The benefits of baobab oil in cosmetic products
Gained from the seeds of the fruit, baobab oil is used as a moisturising ingredient in cosmetics. There are several benefits which make baobab oil a valuable ingredient in natural care products. The oil contains many of the anti-oxidant vitamins A, E and F, essential fatty acids, tocopherols (vitamin E) and phytosterols as well as vitamin D3. Gaining the oil through gentle cold pressing and cleaning it through careful refining, we maintain its valuable ingredients at the best possible level and offer our customers the INCI Adansonia Digitata Seed Oil in the highest quality. Being certified according to COSMOS and the Lacon guidelines for organic cultivation, our refined baobab seed oil (moyo) is excellently suitable for natural cosmetics.
The benefits of baobab hair care and facial care
As a reliable moisturiser, baobab oil has an effect down to the deep layers of the skin and nourishes dry, irritated and flaky skin that frequently appears in winter. Applied regularly, baobab makes your skin softer, smoother and improves its texture. Baobab seed oil is also effective as a gentle cleanser suitable for daily use. It removes blemishes without stripping the skin of its natural lipids and ensures deep cleansing while nourishing the skin at the same time. Our baobab seed oil (moyo) refined is available e.g. in the African Safari Massage Oil formulation that you simply have to try. You can find all the important information about it in our PDF document that you can download directly here and free of charge:
African Safari Massage Oil formulation
You can find more information about the baobab seed oil (moyo) refined (INCI Adansonia Digitata Seed Oil) at our Website (german).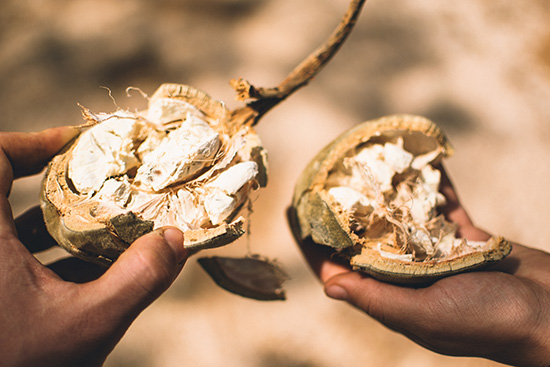 © voelle - Adobe Stock
back