Chia seeds - a superfood that can simply do more
HyVia (TM) (Chia Seed Extract) for premium-quality cosmetics
Chia seeds have become a popular ingredient in healthy nutrition. But the superfood can do a lot more. In the past few years, chia seeds have also caused a sensation in the world of cosmetics, and that with good reason. The seeds of the Mexican chia (Salvia hispanica) contain a lot of valuable fatty acids providing nutrients to the skin, hair and nails. This makes chia an efficient, natural alternative to chemical ingredients in cosmetic products.
A perfect supplement in varied diet and skin care products
Chia seeds are tiny black and brown seeds with a strong, nutty taste. They are rich in protein, omega-3 fatty acids, omega-6 fatty acids and linolenic acid. Their high content of anti-oxidants and fibres helps digestion and supports the brain. When soaked, the seeds develop a gelatinous substance which can be perfectly integrated into food to improve its texture, increase its nutritional value and extend the feeling of satiety. Thanks to their valuable fatty acids, chia seeds not only attract people's attention as a superfood but they are also perfectly suitable for wellness products and cosmetics.
Chia seeds in cosmetic products provide moisture, skin nutrition & more
For centuries, chia seeds have been used to moisturise the skin and to fight acne. This frequent skin disease is caused by clogged pores, which results in pimples, blackheads and so-called whiteheads. Chia seeds help to cleanse the skin and reduce acne by reducing inflammations. In addition to this, chia seeds are an excellent source of essential omega fatty acids which are indispensable for keeping up the health of your skin, hair and nails. Our chia seed extract »HyVia (TM)« is available as a clear to slightly yellowish oil and is e.g. ideally suitable as INCI (Salvia Hispanica Seed Oil) for cosmetics and wellness products used for skin care.
Tip: Simply try our two balanced formulas with chia seeds – for perfect skin care in the cold winter season!
Health and Relax Ampoule (with chia seed extract)
Skin Power Cream-Gel! HyVia for Health (with chia seed extract)
You can find more information about HyVia (TM) (Chia Samen Extrakt) at our website. We will of course gladly be at your disposal for any questions you may have and for orders.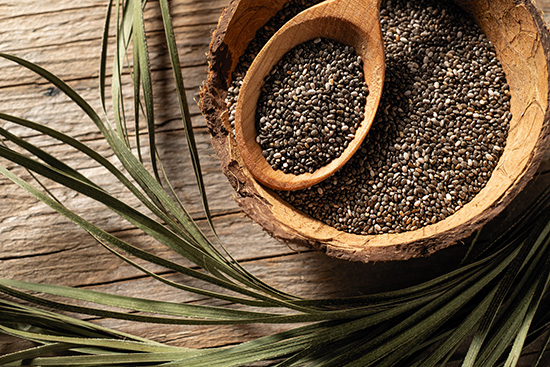 © mira_y - Adobe Stock
back