Real wellness, little effort: Intensive treatment for stressed skin
Health and relax & vitamin-shot ampoule
There are hardly any gentle weather transitions between the seasons anymore, and temperature changes like those that are taking place now that autumn is beginning noticeably stress even less sensitive skin. The consequences may vary and range from a slight dryness up to chapped skin, which makes it easy for germs and bacteria to penetrate into the skin. An intensive skin treatment helps to solve the problem. We have worked out several new formulations, two of which we would like to present to you directly here.
Health and Relax Ampoule – Relax better with a healthy skin
As its name suggests, the ingredients of our Health and Relax Ampoule formulation actively contribute to a healthy, relaxed skin. Containing almost 10 per cent of native buriti oil, it provides the skin with plenty of fatty acids, beta carotene and vitamin E in the form of natural tocopherols. Completed by further ingredients, such as chia seed extract, turmeric oil, bisabolol, the anti-inflammatory main agent of camomile oil, or anti-oxidants like mangosteen, it gives the skin enough fuel for the protection of its barrier and intensive nourishment.
You can download the detailed formulation of the Health and Relax Ampoule as a PDF-file here
Vitamin Shot Ampoule – The energy booster for stressed skin
Besides sufficient moisture, anti-oxidants play a decisive role in the protection and preservation of a healthy skin. This is why we have developed an energy booster for stressed skin with our Natural Vitamin Shot Ampoule formulation. Containing 10 per cent of ascorbyl glucoside (INCI: Ascorbyl Glucoside), a potent anti-oxidant, it improves collagen synthesis, reduces wrinkles and develops a skin-lightening effect. After its absorption into the skin, the metabolization of vitamin C repairs and protects the skin. Further ingredients such as sodium hyaluronate (INCI: Sodium Hyaluronate) or cydonia extract 2.5 % NP (INCI: Pyrus Cydonia Seed Extract) ensure the long-term moisturisation of the skin.
You can download the detailed formulation of the Vitamin Shot Ampoule as a PDF-file here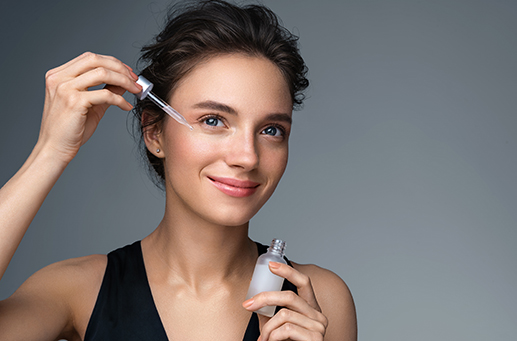 © Romario Ien - Adobe Stock
back