Massage to stimulate blood circulatio
Here's how elder can help you relax
What has elder got to do with relaxation? Anyone who can unwind with a cup of hot elder tea in a cosy atmosphere knows a possible answer. We have another one: As a standardised extract, the lovely elderflowers are especially convincing in relaxing massage oils, gels or pampering creams.
Relaxing massage with premium-quality active agents
A good massage not only depends on the qualification, experience and the manual dexterity of the massage therapist but the excellent quality of the product used for the massage is also essential for an unforgettable massage treatment. Seeking stress relief, we find numerous applications partly with individual herb mixtures, exotic essential oils and diverse extravagant aids such as hot stones. But less attention is paid to the native elder. Quite wrongly, because the plant from the muskroot family supplies precious bioflavonoids and tannins that stimulate blood circulation and have an anti-microbial and anti-inflammatory effect – properties which are a boon for any massage oil.
Active agents gently extracted from elderflowers
Our standardised elderflower extract contains at least 0.5% of the bioflavonoid rutin and at least 1.0% tannic acid which we gently dissolve in phenetyl alcohol, ethanol and water (INCI: Aqua, Alcohol Denat., Phenethyl Alcohol, Sambucus Nigra Flower Extract). Used with a concentration of 1.0% up to 5.0%, the extract not only develops its effect in massage products but is also suitable for innovative shower gels, hair-care products, body lotions and modern sports cosmetics.
You can find more information about elderflower extract and the possibility of sending us an instant online enquiry at our productlist.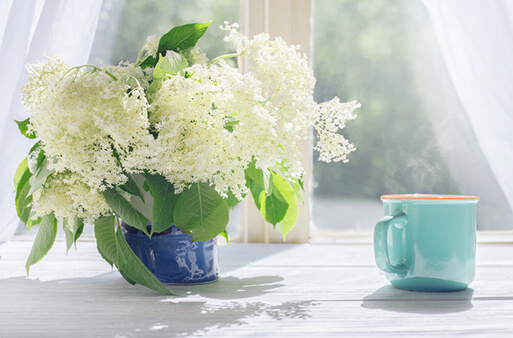 © MarinaZg - iStock
back