Intensive skin care for bright and beautiful moments
Peptidox® Eyes reduces puffiness under the eyes, wrinkles and fine lines
Whether it's sunbathing, a walk along the beach or a refreshing dip in the lake: The summer months spoil us with lots of warming rays of sunshine. Some enjoy the hot weather more, others less, but one thing is for sure: Exposure to direct sunlight means heavy stress especially for the sensitive area around the eyes and can even result in fine lines. Additional exposure to wind and salty air during the holidays can quickly lead to dry, irritated skin with inflammations. To nourish and protect the sensitive area around the eyes, we offer a brand-new, special complex of active agents: Peptidox® Eyes.
Ingredients fine-tuned to the sensitive skin around the eyes
Peptidox® Eyes combines effective ingredients in order to reliably eliminate puffiness and fine lines around the eyes in just a few days. This complex of active agents convinces by its combination of bioactive peptides (dipeptide-2 and acetyl tetrapeptide-5) and poria cocos sclerotium extract – an extract gained from the fu-ling fungus which has been used in Traditional Chinese Medicine (TCM) for centuries. Used in cosmetic products with anti-oxidative, anti-inflammatory properties, Peptidox® Eyes has a targeted effect on the tender skin around the eyes and minimises visible signs of stress.
Complex peptides for convincing skin care
The effectiveness of peptides against wrinkles, puffiness or fine lines results in a strong demand from users. Small wonder, as the effectiveness of acetyl peptides is often compared with a mild botox effect. And this is why our newly developed complex of active agents is perfectly suitable for premium-quality cosmetic products – ranging from the periodically applied serum in the ampoule up to the face cream for daily skin care. Peptidox® Eyes is available as a yellow water-soluble liquid and can easily be used for face creams and lotions, gels, ampoules, eye fluids or concealers. You can get the complex of active agents from GfN in the high quality you are used to: Peptidox® Eyes (INCI: Butylene Glycol, Aqua, Poria Cocos Sclerotium Extract, Dipeptide-2, Acetyl Tetrapeptide- 5).
You still have questions or want us to make you an offer right away? If so, please do not hesitate to contact us – we'll be pleased to provide advice.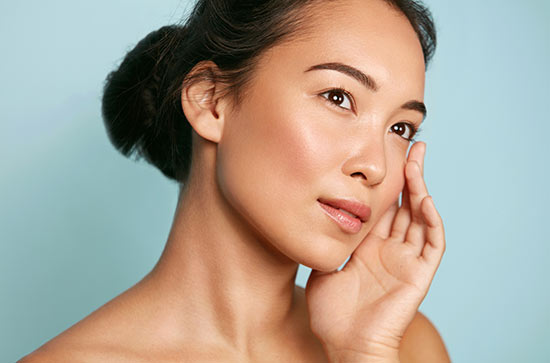 © puhhha - Adobe Stock
back