New formulation for lip balm
»Clean product« soft lip balm to fight chapped lips
Rough, chapped lips are a typical winter issue and makes the people affected use lip balm time and time again in this season. But which one? There are some marked differences as regards the effect and composition of this product. To ensure the optimum balance of composition and effect, we have developed a formulation for a "clean product" soft lip balm which ensures excellent nourishment thanks to its purely natural, plant-based ingredients.
Carefully selected butter and oils
The basis of the new formulation of our lip balm is formed by natural oils with proven nourishing properties, in particular cold-pressed olive oil and jojoba oil. The additional buriti fruit oil supplies rich fats and a wealth of beta carotene. Thanks to its outstanding water binding capacity, cupuaçu butter is the perfect care professional that ensures long-term moisturisation and suppleness. And what could be better than the tenderly melting, velvety texture of our premium-quality murumuru butter? A matchless combination and the optimum protection against wind, nasty weather and dry air in heated rooms.
Properties of our »clean product« soft lip balm formulation:
Restoration of the skin barrier (regeneration)
Moisturising
Reduces TEWL
Antiphlogistic
Antioxidant with an anti-stress effect
Anti-microbial
Soothing and nourishing
Film forming
You can download the formulation data sheet with detailed information about dosing and the production process of lip balm as a PDF document here.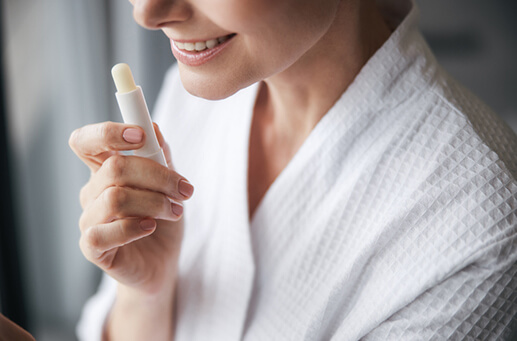 © YakobchukOlena - iStock
back