Multifunctional active agent: Incense in natural cosmetics
ViaPure® Boswellia Green – COSMOS- & NATRUE certified
Incense ranges among the oldest fragrances of mankind and played a substantial role in the invention of perfume. The burnt resin was one of the things the ancient Egyptians used to obscure natural odours. The development is also reflected in its name, because the term »perfume« means »through smoke«. Whether you like the typical Christmas scent or not does not matter in our case, because as an almost odourless active agent for highly effective cosmetics, incense is to everybody's benefit, especially when it comes to the care of sensitive and mature skin.
Multifunctional active agent – anti-inflammatory & modulating
Our active agent ViaPure® Boswellia green is an extract from incense, or more precisely a lipophilic extract from the resin of Boswellia serrata. The ingredient soothes acute inflammatory reactions in a highly efficient manner, improves the firmness of the skin and strengthens the barrier function of the skin. The high-purity extract contains at least 65 % boswellic acid which thanks to its wide scope of effects is suitable for a great number of skin-care products and fully develops its strengths mainly when used for sensitive and mature skin. The high quality of the extract reduces its odour and colour to a minimum and also significantly improves the solubility of the active agent. In addition to this, our ViaPure® Boswellia Green is approved by COSMOS and certified by NATRUE, which allows its use in premium-quality natural cosmetics.
ViaPure® Boswellia green in our Natural Anti-Stress Ampoule
During the cold season, the skin needs special attention and ideally a supply of rich nutrients. But one active agent alone does not make a good product, which is why we have already developed a convincing formulation for our incense extract for skin care in the winter time. Containing ingredients such as almond oil, turmeric extract and coenzyme Q10, ViaPure® Boswellia green in the Natural Anti-Stress Ampoule ensures premium-level skin care. You can find the detailed formulation of the »Natural Anti Stress Ampoule« here as a free PDF download.
You can buy ViaPure® Boswellia green as a single active agent as usual from our shop.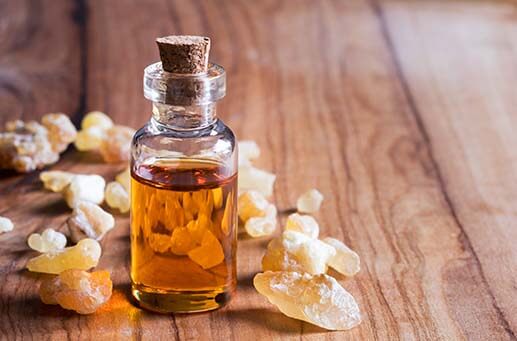 © Madeleine Steinbach - Adobe Stock
back