Trends in natural cosmetics: solid skin care products based on oil
Cupuaçu butter & murumuru butter
Whether it's shampoo or naked facial cleansing oil: solid cosmetic products are the latest trend because they are not only practical in handling and look great but also have an enormous savings potential in terms of plastic packaging. But stable consistency and performance are two new challenges natural cosmetics in particular have to face. Cupuaçu butter and murumuru butter are two ideal ingredients for solid cosmetics on an oil basis and we offer them in deodorised condition with a less strong natural scent.
Cupuaçu butter – the superfruit from the rain forest
Cupuaçu butter is derived from the seeds of the Brazilian cupuaçu fruit growing on a tree named »Theobroma Grandiflorum«, and it contains a naturally high level of valuable phytosterols which lastingly support the function of the skin barrier. Thanks to its nourishing and anti-inflammatory properties, the butter is especially suitable for dry and damaged skin. Its unique composition of fatty acids with 30% stearic acid, 2% phytosterols, its melting point of 30 °C and its outstanding water absorption capacity of 440% make cupuaçu butter a valuable ingredient for premium-quality cosmetics.
Ideal agent for cosmetics such as:
Sun protection
After-sun care
Anti-aging products
Decorative cosmetics
Skin care
Skin protection
You can find our premium-quality cupuaçu butter with ECOCERT Certification (INCI Theobroma Grandiflorum Seed Butter) in our porductlist.
Murumuru butter – the natural silicone substitute
Natural murumuru butter is extracted from the seeds of the Astrocaryum palm by cold pressing. With its up to 50% content of lauric acid and melting point of 33 °C, it is a natural silicone substitute that is used in sustainable cosmetic products. The butter produces a protective film on the skin, is effective against dry skin and gives the skin a soft and smooth feel. Murumuru butter also demonstrates its strengths in hair care products as it improves the shine of the hair, nourishes dry and damaged hair and has an anti-frizz effect.
The optimum ingredient for e.g.:
Skin care
Hair care
Decorative cosmetics
You can find our premium-quality murumuru butter as a natural ingredient for cosmetics (INCI Astrocaryum Murumuru Seed Butter) in our porductlist.
You are very welcome to contact us for a personal consultation – we look forward to your enquiry.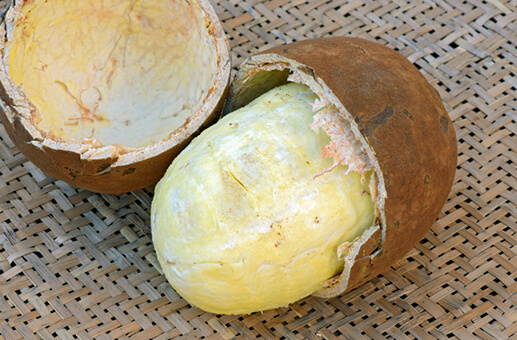 © jaboticaba - iStock
back