Looking for that naturally beautiful glow?
4 convincing active agents for distinctive natural beauty
Summer time is the season in which you can exhaust the full potential of natural beauty and make it glow. More than ever with the current »natural beauty« trend. The focus lies on a natural, youthful radiance with a rosy, healthy and fresh glow. How can that be done? We offer you a great variety of premium-quality active agents which help you hit the spot of the innovative trend. Whether it's a modern peptide or a rich natural extract – we have what you and your customers want.
Peptiboost Glow – for naturally radiant beauty
Come and delve into the radiant world of Peptiboost® Glow! Our innovative complex made of six highly effective active agents gives your skin natural beauty and a healthy glow. The unique formula removes dead skin cells, promotes an even skin tone and strengthens the extracellular matrix for a youthful texture. Experience the luxury of an improved collagen and glycosaminoglycan synthesis while Peptiboost® Glow fights tired skin and protects it from harmful environmental influences.
Discover radiant youthfulness and enquire for Peptiboost® Glow now.
OceanDerMX® Balance & Brighten – for an even skin tone and a natural look
OceanDerMX® Balance & Brighten is gained from seaweed and New Zealand's native black fern. It soothes the skin and reduces redness and blemishes. In combination with Glycyrrhiza glabra (licorice) und Centella Asiatica, the active agent promotes a healthy balance of the complexion and gives the skin a natural glow. OceanDerMX® Balance & Brighten is a great complement for cosmetics that promote a radiant skin tone and calm the skin at the same time.
Here you can find more details and the possibility of sending an enquiry for OceanDerMX® Balance & Brighten in our shop.
Peptiboost Cu P – innovative biotechnology for radiant beauty
The copper tripeptide Peptiboost Cu P is a veritable cell booster which stimulates cell proliferation and thus the regeneration of the cell wall in a targeted manner. Processes such as collagen synthesis and cell division are stimulated and the skin barrier function is restored. This results in a natural, youthful look with a soft and even skin. And besides, Peptiboost Cu P also gives your effective formulation a stable, blue colour. Natural beauty in the focus of modern science - Peptiboost Cu P definitely leaves nothing to be desired.
You can find Peptiboost Cu P in our shop.
Ascorbyl glucoside – Vitamin C to fight harmful environmental influences and the aging of the skin
Ascorbyl glucoside is a stable form of vitamin C which is ideally suitable for skin care. This active agent helps to reduce dark spots, hyperpigmentation and age spots. At the same time, it promotes collagen production, which results in a firmer, more youthful skin. The use of ascorbyl glucoside can contribute to a radiant complexion and to the reduction of fine lines and wrinkles.
You can find our premium-quality ascorbyl glucoside with ECOCERT and COSMOS certification here.
Convince yourself: formulations that make the skin glow
Natural glow and summer skin care go hand in hand and underline the natural, fresh and healthy look and glow of the skin. Discover our trendy formulations to find your next natural glow hit!
Download the Shine and Rise Vitamin C Serum formulation now free of charge as a PDF document:

Download the See Me Shining Ampoule formulation as a PDF file free of charge. It's just a mouse click away: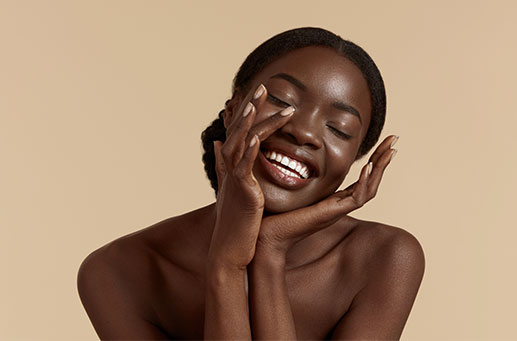 © puhhha - Adobe Stock
back