New at our company: Organic Bioactives from New Zealand
Innovating from Māori tradition
We owe a great heritage to the indigenous peoples of this planet – just think of the valuable knowledge around the local flora and fauna and life in close communion with it. For this reason, we are particularly pleased to be able to be part of this priceless heritage with our new partnership. With »Organic Bioactives – Innovating from Tradition™« from New Zealand, our customers will benefit in the future from active agents that come directly from the traditional knowledge of the Māori, the natives of New Zealand.
Bioactive agents grown from experience
Founded in 2019, Organic Bioactives ranges among the younger companies, but the quality of their products convinced customers immediately and the company was able to establish a global sales network in a very short time. Small wonder because the active agents combine the Māori's traditional know-how with modern science and deliver effective skin care at the highest level. For ten years, founder Andrea Taimana experimented with the ingredients of New Zealand's terrestrial and aquatic plants because she was highly interested in them. Eventually the results of her experiments were so good that she did not want to withhold their effects from other people. This short history generated an impressive active agent for skin care that you will soon find in our product portfolio.
Handling organic agents with due respect
Organic Bioactives handles the raw materials with due respect and has made the »kaupapa«, the Māori's principles and values, the basis of its own corporate culture. The company's guiding principles are based on the respect and thankfulness towards »papatūānuku« (Mother Earth) and »tangata whenua« (people of the land). In practice, this means close cooperation with the indigenous tribes to realise a traditional and sustainable harvest of the raw materials. In addition to this, natural watercourses are restored, consumed resources are replanted and a positive CO2 footprint is aimed at via re- and upcycling. This results in respectfully obtained active agents that come from e.g. the New Zealand red sea plume, the mamaku – black tree fern –, from green tea organically grown in New Zealand and other plant extracts from the Māori's gardens in New Zealand. Look forward together with us to exciting active agents for innovative, natural products.
We will inform you via the usual channels as soon as the Organic Bioactives agents are available at our company. You still have questions about our products? If so, simply get in touch with us – – we will be very pleased to provide advice.
You can find the website of our partner Organic Bioactives at https://organicbioactives.com/.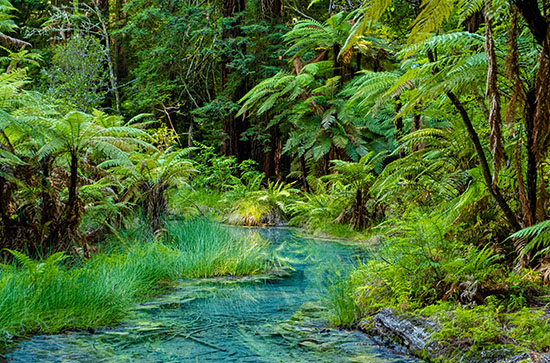 © rodcoffeehill - Adobe Stock
back