Enjoy winter to the fullest: New formulation for intensive skin care on cold days
Skin Power Cream Gel! HyVia for Health
Skin Power Cream Gel! HyVia for Health. That's the name of our brand-new formulation for skin care in winter. Its name already promises a lot of power – and that's exactly what's inside. To strengthen the skin barrier and for optimal nourishment, three of our most powerful ingredients play an essential part: HyVia chia-seed extract, konjac mannan and Atecoron Plus®.
Rich in omega-3: Chia-seed extract with precious fatty acids
With our HyVia chia-seed extract, you get a unique plant extract with a high content of nourishing and moisturising omega-3 fatty acids, alpha-linolenic acid (ALA), omega-6 and linolenic acid (LA). HyVia completely inhibits protein phosphatase methylesterase-1 (PME-1) and fully activates protein phosphatase-2 (PP2A), and the increased aquaporin-3 level (AQP3) raises the water transport and hydration of the epidermis. With its additional protection of the skin barrier and anti-microbial properties, HyVia convinces in any premium-quality formulation.
You can find the full scope of effects and more detailed information on the product page of our ready-to-use HyVia (chia-seed extract) (INCI: Salvia Hispanica Seed Oil).
Natural thickener: Konjac mannan provides moisture without being sticky
A skin-care gel should not be too thin and a sticky film on the skin is considered an absolute no-go in premium-quality cosmetics and skin-care products. Our konjac mannan brilliantly keeps the balance and as a natural ingredient acts as a stable and reliable thickener in combination with other natural thickeners such as carrageenan without being sticky at all. As another beneficial effect, our konjac mannan gel powder improves the hydration of the skin by up to 15 % after three hours or by up to 7 %, respectively, after 28 days.
You can find further information about konjac mannan gel powder (INCI: Glucomannan or Amorphophallus Konjac Root Extract) with COSMOS- and ECOCERT certification.
Paraben-free hyaluronan complex of active agents: Deep skin care with Atecoron Plus®
Optimal moisturisation of the skin and reduction of wrinkles without hyaluronan? We can't imagine that either and this is why we have rounded off the formulation with Atecoron Plus® PHE 1.2, our paraben-free hyaluronan complex of active agents.
You can find details about the scope of effects and use at in our products.
You can get the complete formulation of »Skin Power Cream Gel! HyVia for Health« as a PDF download here.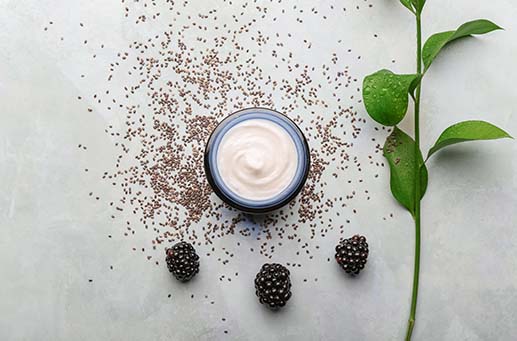 © Pixel-Shot - Adobe Stock
back