Purple antioxidant with improved effectiveness
AGSE – Activated Grape Seed Extract
As a strong antioxidant, AGSE (Activated Grape Seed Extract) red-cards harmful environmental influences and protects the skin in many ways, e.g. by reducing free radicals or through the promotion of collagen gene expression in dermal fibroblasts. The ingredient exhibits a dark red to purple color which lends your cosmetic and/or care products a unique charm – just like a delicious glass of a full-bodied red wine.
Bioscience for increased activity
Grape seed extract is one of the oldest and most frequently used natural antioxidants and is widely known for its skin-care properties. But the antioxidative effect of grape seed extract goes far beyond the scope of skin care. It also promotes collagen synthesis and helps protect the skin cells against environmental stress. To put it in a nutshell: It is the perfect ingredient to keep the skin young and healthy. Didn't you doctor also recommend you to have a glass of wine in the evening? Our active agent ADSE is an innovative botanical extract from the seeds of red grapes, enriched on PP2A (protein phosphatase 2) activating flavonoids. This special composition makes the agent about five times more potent than conventional grape seed extracts. A positive side effect: As a dark red or purple powder it lends cosmetic products an irresistible color. Make double use of the good properties of a relaxing glass of wine [the grape]! We are explaining what that could be like in the formulation below.
Active Defense Serum – strong against photo-aging
In combination with konjac mannan and other selected ingredients, AGSE (Activated Grape Seed Extract) build up a strong shield against harmful influences on the skin and provides long-term care with anti-inflammatory properties and moisturization at the same time. As result, the Active Defense Serum reduces stress on the skin and has a strong effect against photo-aging. Just what the doctor ordered! Cheers! You can find the detailed formulation here as a PDF file free of charge.
Direct link to the active ingredient:
AGSE (Activated Grape Seed Extract) as powder (7318)
INCI: Vitis Vinifera Seed Extract

AGSE (Activated Grape Seed Extract) 10% L as solution (7350)
INCI: Propanediol, Vitis Vinifera Seed Extract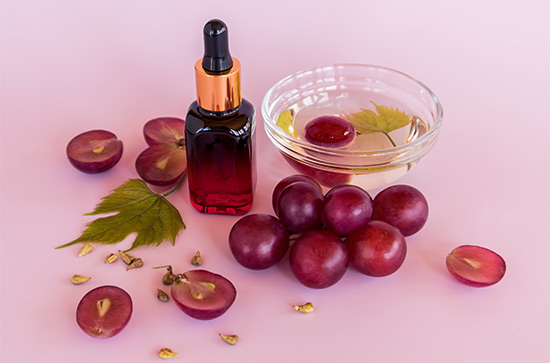 © Marina - Adobe Stock
back