Facial care with the moisture of natural quince
Spring cleaning for tired cells
Hardly is the spring sun shining that it not only wakes up sleeping nature to new life but also brightens our mood. Thinking of our garden, the blossoming plants on our balcony or walks in the sun gives us new motivation and lets us breathe freely. This bright time of year always lifts our spirits and boosts our metabolism but at the same time changes the demands our skin places on its care products. Rich, oily winter creams are replaced by light, nurturing cream gel recipes which not only moisturise the skin but are also intended to protect it against environmental influences through premium-quality radical scavengers. It is mainly our face that now needs lightweight care – a real spring cleaning for tired cells.
Natural moisture with quince extract (cydonia extract 2.5 % NP)
With its precious polysaccharides and anti-inflammatory properties, the quince had already made its way into our news and at that time, we had especially underlined its excellent effect on stressed or chapped skin. But the quince also has a lot of potential in terms of moisture. In vivo tests showed that 8 per cent cydonia extract 2.5 % NP improves the hydration of the skin by up to 28.4 % after three hours and by up to 15.6 % after 28 days. This not only makes the quince extract a direct moisture professional but it also convinces thanks to its long-term effect and thus becomes indispensable for any natural face cream or skin care product with a reliable moisturising effect.
Active agent of the quince gently extracted
To obtain quince extract in a gentle manner, we use a method that we have specially developed for this purpose and which enables us to ensure maximum quality for your cosmetics and skin care products. We recommend using the COSMOS-certified extract in concentrations of 4% to 20%. It is also perfectly suitable for premium-quality natural cosmetics.
You can find more about quince extract (INCI Pyrus Cydonia Seed Extract) in our productlist.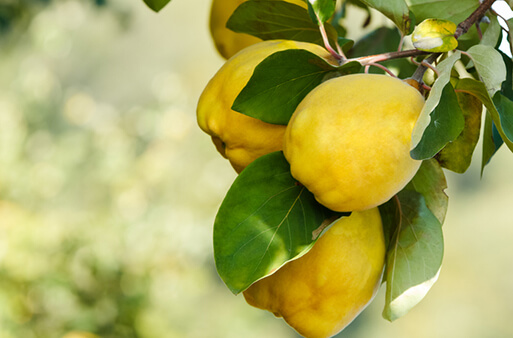 © SStajic - iStock
back