SIGNUM™- Active agents directly from the research lab
Innovation allows no standstill
The secret of highly effective ingredients for cosmetic products is the basis of current research on a molecular level. Our partner SIGNUM™ from the USA has specialised in this task and develops biotechnical analogues of natural lipids – with a resounding success.
Innovative active agents with an exclusive sales channel
The biotech company that is relatively small with its twenty employees stems directly from the research department of Princeton University, where the company's founder Dr Jeffry Stock discovered molecules that can be used to fight inflammatory processes in a targeted manner – a real gain for highly efficient cosmetics and pharmaceutical products. Because the isoprenyl cysteine molecule »disodium tetra methyl hexadecenyl cysteine formyl prolinate« (SIGDerma Clean & Sensitive) fights acne in a targeted manner without any irritations or side effects. (Article no. 7322). Another highlight from the SIGNUM™ portfolio is SIGDerma Hydro Extend (Article no. 7320) with an outstanding effect to fight dark circles around the eyes and photo-aging. At present, SIGNUM™ is the owner of 50 patented ingredients that are sold worldwide exclusively by selected partners.
Effectively and gently obtained plant extracts
The trend towards natural, sustainable skin care products has relegated conventional cosmetics to the background – and is growing stronger. The reason is not only the demand for but also the availability of premium-quality and efficient natural ingredients. Because ecological sustainability alone does not ensure an effect and consumers simply cannot be convinced by »voodoo in the flacon«. Taking this into account, Signum supplies e.g. an activated grape seed extract that with its content of enriched flavonoids directly stimulates PP2A (protein phosphatase 2A), or a chia seed extract that is particularly rich in valuable fatty acids. You can find more detailed information about the ingredients on our website:
You can find the website of our partner Signum at https://signumbiosciences.com.
Innovative products need innovative active agents – kontaktieren Sie uns if you have any questions or for orders around our SIGNUM™ offer.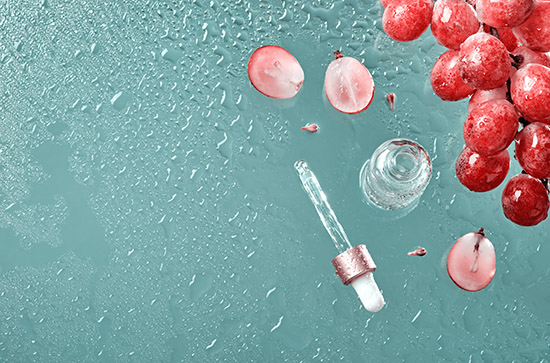 © colnihko - Adobe Stock
back