Papain – effective peel-off substrate from the papaya fruit
Young skin at any age
Who wouldn't want to claim that they found it – the perfect skin care product? But can there be such a product at all? How realistic is this wish? If we have a closer look at human skin and look behind the scenes of biochemical evolution, we have to realise: There will never be THE perfect recipe because each skin is as unique as the human himself. However, we can definitely say that some active agents generally have a positive effect on the condition of the skin, such as our new enzyme – papain.
Papain – the concentrated active agent from the papaya fruit
Nature has an answer to almost any problem. Papain, for example, a natural enzyme present in the papaya fruit, helps it to fend off pests. In cosmetic products, this principle of action can literally be transferred to the skin where it serves as an effective peel-off substrate. The treatment with papain supports cell renewal and makes the skin noticeably fresher and softer. The papain (200) from our portfolio is gained by collecting the latex from the fruit of the papaya tree and exhibits an enzyme activity of at least 200,000 U/g – it will soon also be available as papain (800) with 800,000 U/g.
Ideally suitable for laundry detergents, soap and cleaners
The natural enzyme has an anti-inflammatory, disinfecting effect and even some sterilising properties. It can efficiently optimise the removal of stains. Thanks to these properties, papain also convinces as an active agent in laundry detergents, soaps or cleaners in addition to its skin care effect. You can buy the valuable active agent from the papaya fruit from us as a water-soluble powder – it is used in concentrations ranging from 0.1% to 0.3%.
Very popular applications of papain (200/800) include, for example, anti-aging, whitening or anti-acne cosmetic products. Click here to access the active agent.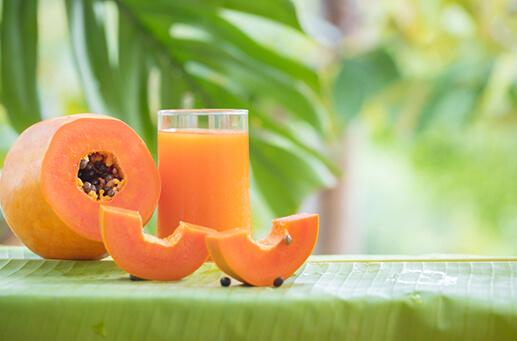 © annamoskvina - iStock
back