Stable in oil and on the skin – the perfect skin care for summer
Oil-soluble vitamin-C derivative for highly efficient cosmetics
Vitamin C (ascorbic acid) is not only considered a booster for the immune system but its unique properties also provide good skin care that is deep pore and especially long-lasting. Because the vitamin of life, as it is often called, has a strong anti-oxidative effect, supports the formation of new collagen and helps to fight skin blemishes, acne or pigmentation marks. Unfortunately, pure ascorbic acid oxidizes rapidly, which greatly limits its use in cosmetic products and, because of its water- solubility makes it almost impossible to use in cosmetics with a high fat content. The solution: Ascorbyl isostearate – our oil-soluble vitamin-C derivative.
A vitamin that gets under your skin
Ascorbyl isostearate attains its full effect where it really matters, namely directly in the skin. The derivative is metabolised into ascorbic acid and its behaviour and function are very similar to those of the proven ascorbyl stearate. But ascorbyl isostearate has an improved solubility in oil, which simplifies both manufacturing processes and increases product variety. Our oil-soluble vitamin-C derivative has a strong anti-oxidant effect, reduces the formation of new melanin by inhibiting tyrosinase activity, minimises the formation and spread of wrinkles, helps lighten the skin, stimulates the production of new collagen and supports the glow of the skin as well as an even complexion.
Summer vitamin power for cosmetics and oils
While fatty cosmetic products are rather used in winter, lightweight, moisturising cosmetics are asked for in summer. Consequently, our ascorbyl isostearate (INCI Ascorbyl Isostearate) is suitable, e.g. for enhancing sun oils which in addition to citric fragrances and freshness also contain the full power of vitamins. We obtain the vitamin-C derivative by gentle condensation reaction of ascorbic acid and stearyl chloride, which enables us to ensure consistently high quality. You can find the ascorbyl isostearate (INCI Ascorbyl Isostearate) on our website.
Please do not hesitate to contact us for personal advice – we are looking forward to hearing from you.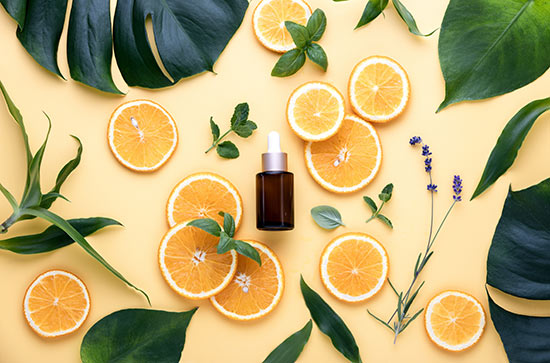 © fortyforks - Adobe Stock
back