Create real summer vibes with premium-quality natural cosmetics
Natural beauty from countries with summers we dream of: New Zealand and Africa
Rays of sunshine and a warm breeze take our thoughts to places where we dream of spending our holidays. Pristine nature, deep green, crystal clear, turquoise water – can there be anything more pleasant than good summer vibes? And what could match that feeling better than a refreshing and natural beauty routine that gives us that glow on the skin and that fresh look? And protects us from harmful UV rays at the same time? Our partners, Organic Bioactives from New Zealand and Kupanda from South Africa, have just the right thing for you: premium-quality active agents from regions we dream of and which also help our skin to spend relaxing and healthy summer holidays.
Organic Bioactives – the power of New Zealand' pristine nature
New Zealand, an oasis like paradise with untouched nature and home of our partner Organic Bioactives. For the very first time, the manufacturer of innovative plant extracts offers you the synergistic power from land and sea for your luxurious skin-care series. Thanks to its unique location, New Zealand not only offers a highly active diversity of plants but also the traditional knowledge of the Māori, New Zealand's indigenous people. By way of a purely physiological, patented extraction method, the premium-quality plant extracts are obtained in close communion with nature and refined into extraordinary blends. Being rich in anti-oxidants, polysaccharides and other natural active substances, they provide lasting nutrition to the skin and protect it from harmful environmental influences. Besides such well-known extracts as those from Centella asiatica, algae or green tea, it is mainly New Zealand's fascinating native plants which have been part of the country's traditional folk medicine for centuries. Kava kava (a kind of pepper plant), manuka honey and the black tree fern are only some of the extraordinary ingredients of OceanDerMX, the modern active-agent series from Organic Bioactives. Whether used to calm and soothe the skin, to strengthen its defences, for hydration and against premature aging – these extract blends are precisely tailored to what you claim from a product.
Discover the powerful beauty of nature with Organic Bioactives and elevate your summer care product line to a new level. Ranging from refreshing facial cleansers and invigorating face masks up to nourishing body oils and soothing after-sun lotions, the active agents made by Organic Bioactives provide integral care from head to toe.
You can find more detailed information about the active agents made by Organic Bioactives in our presentation here.
Or make practical use of the power of nature right away and test our Clear Skin Refreshing Spray – you can get the formulation as a free PDF document here:
Kupanda – the magic of African beauty traditions
It goes without saying that our summer vibes also include the fascinating world of Kupanda, a manufacturer that has completely dedicated itself to the secret of African beauty. Kupanda combines centuries-old traditions with modern science to create highly effective oils for your innovative natural cosmetics. Ripened under the African sun and harvested with love and care in accordance with traditional knowledge, African treasures such as baobab, marula or manketti are brought to you by Kupanda for your summer care products. The rich refined oils are obtained in a sustainable manner which preserves the unique biodiversity and the basis of existence of African communities. In conformity with natural cosmetics and with studies of demonstrated effectiveness they provide distinctive added value to your next summer series. For this purpose, we also have exceptional effective oils such as Kalahari melon oil or ximenia oil in our unique portfolio.
Unparalleled skin care for the hot summer months
Whether it's baobab, marula, moringa or Kalahari melon: the premium-quality oils sold by Kupanda have precisely the right oil for every need. Their unique textures range from lightweight to rich and studies also demonstrate the specific effectiveness of the natural oils. It is not only hydration that matters here but also the regeneration of the skin barrier, protection against harmful environmental influences or the preservation of a healthy skin microbiome, all of which are ensured by the company's diverse range of effective products. And it goes without saying that Kupanda does not forget to also offer premium-quality hair care.
Let yourself be enchanted by African beauty traditions and spoil your customers with the unique properties of extraordinary, natural oils. From nutritious face oils to revitalising body butter up to deeply nourishing hair care products Kupanda offers everything for those matchless summer vibes during the sun-kissed season.
You can find further details also for the cosmetic agents made by Kupanda in our Summer Vibes presentation here.
For you to test we have selected two convincing formulations that combine several nourishing and protecting properties:
One of them is our African anti-frizz hair oil – you can get the formulation here:


And the other is our proven I love Detox – natural pollution shield skin oil – here's its formulation: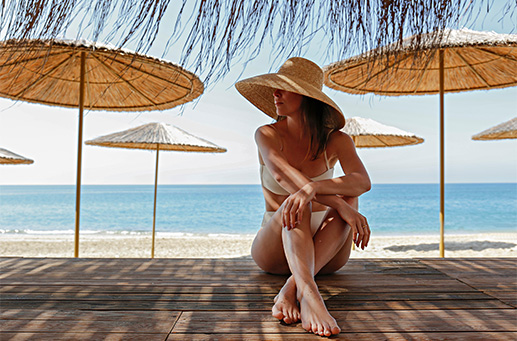 © Evrymmnt - Adobe Stock
back