Cosmetics to fight the winter blues?
Wellness for the soul at your own home
Now that people's moods are already rather low in the cold and dull winter days, the continued Corona-fighting measures do not exactly make the situation any brighter. And so, it is all the more important to pamper the soul with a little wellness at home and treat your body and senses with premium-quality care to gain new energy. Self-care is especially important right now!
Wellness for the soul at your own home
Stress has a negative effect on health and well-being. But it is not really necessary to book a wellness holiday or a luxury spa to relieve stress, because you can also do something good for yourself at your own home. A long and relaxing bath alone can work wonders. A bath additive with premium-quality nourishing ingredients and essential oils pampers both your body and mind and ensures well-deserved relaxation and regeneration.
A steam bath against dry skin
Cold causes stress to the skin, dehydrates it and makes it chapped. The combination of a steam bath and face care sustainably rehydrates the skin, has a relaxing effect and immediately increases your wellbeing. Steam baths with soothing lavender oil, for example, have proven their effectiveness and for the following skin care, cosmetic products with strongly hydrating and nourishing ingredients, such as hyaluronic acid, Aloe Vera or konjac mannan are highly recommended.
Peeling cleanses the body and mind
A deep-pore cleansing treatment of the skin gives you the additional feeling of regenerative freshness. But what matters most for a body scrub is a carefully selected formulation of the peeling product to ensure the optimum balance between cleansing and rehydration. This is the only way to ensure skin care with a lasting effect and the user will experience a genuine wellness effect.
You can find an overview of our premium-quality ingredients for lasting hydration and moisturisation in our online product catalogue.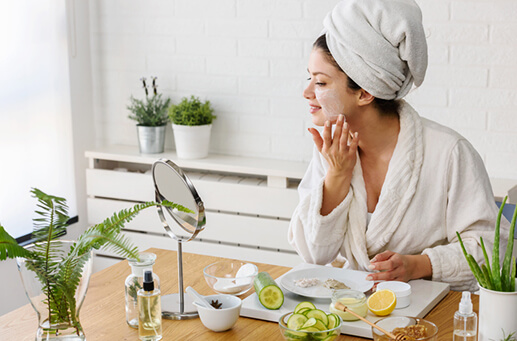 © Lordn - iStock
back