Turmeric Oil (CO2)
extracted from Curcuma longa roots (Zingiberaceae family of ginger plants)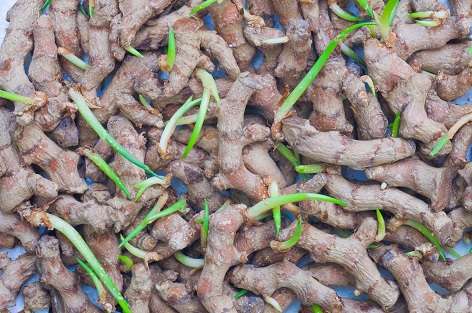 © hinnamsaisuy/Fotalia
Turmeric Oil (CO2) extracted with carbon dioxide from Curcuma longa roots (Zingiberaceae family of ginger plants) is a clear, light yellow oil with a spicy woody smell and contains sesquiterpenes Ar-turmerone, alpha-turmerone, ß-turmerone as well as phellandrene, limonene, zingiberene and 1 , 8-cineole.
Turmeric Oil (CO2) is known from Ayurvedic application as antiseptic, antibacterial, and anti-irritant. As an antioxidant, it strengthens the human defense system against radicals.
It gives the skin an even skin tone and glow.
In aromatherapy it is often used as a relaxation and balancing agent.
Suitable for: skin care creams, body lotions, massage oils, aromatherapy, hair care.
Turmeric Oil (CO2)
Cosmetic benefits
CO2 extracted essential oil out of Curcuma longa root
organic source
contains turmerone
soothes skin
antioxidant (ROS reactive oxygene species)
gives an even skin-tone and glow to skin
useful in aromatherapy for relaxing, balancing and stimulating
NATRUE certified
Product characteristics
| | |
| --- | --- |
| Article-Nr. | 7250 |
| INCI | Curcuma Longa Root Extract |
| Compliance | NATRUE |
| Appearance, odour | yellowish orangish liquid with aromatic odour, typical of turmeric |
| Solubility | oil soluble |
| Use concentration | 0.05 – 2.0 % |