ViaFerm® White Shiitake
a skin-tone lightening ferment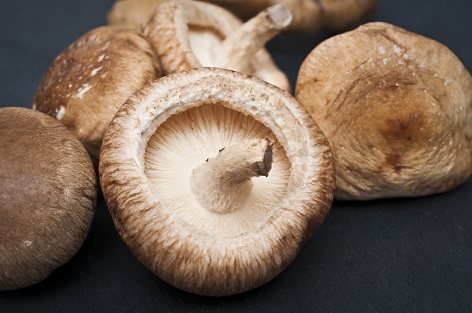 © Stockfotos-MG/adobeStock
The shiitake mushroom, Lentinus edodes, is a well-known edible mushroom widely cultivated in gourmet cuisine for its wonderful flavor. It also has applications outside the food industry, such as color remediation of textile industry waste streams, biodegradation of lignin bonds in paper pulp, and conversion of cellulose to sugar for bioethanol production.
This remarkable biocatalytic potential of Lentinus edodes fermentations inspired to further investigate the utility of shiitake fungi fermentations for the cosmetics industry.
ViaFerm®White Shiitake helps reduce melanin, lighten skin tone and reduce age spots.
ViaFerm® White Shiitake
Cosmetic benefits
biotechnologically derived extract from Shiitake mushroom ferment
skin lightening
against age spots
degrades melanin
anti-inflammatory
Product characteristics
| | |
| --- | --- |
| Article-Nr. | 7274 |
| INCI | Lentinus Edodes Mycelium Extract |
| Compliance | |
| Appearance, odour | light yellow amber liquid with characteristic odour |
| Solubility | soluble in water |
| Use concentration | 2.0 % |